The Youth Learning Lab is the next step in bringing innovative, experiential learning to Kansas City children. The new building will give kids room to think up big ideas, explore careers they have only dreamed of, and practice crucial life-skills outside of the classroom.
Located in the Northwood Shopping Center near 47th Avenue and Mission Road, the new space will house both Junior Achievement of Greater Kansas City offices and the JAKC Youth Learning Lab. The Youth Learning Lab includes JA Biz Town, a nearly 14,000 sq.ft. simulated city, the JA Innovation Lab, a space focused on fostering an entrepreneurial mindset in students, and a JA Career Center designed to be a hub for middle school kids to examine how they can leverage skills and interests needed for future careers.
Other highlights include an architecturally-striking student entrance on the North side of the building, a naturally-lit group gathering and lunch space, and a new permanent home for the JA Business Hall of Fame. The new Hall of Fame will honor the accomplishments of Kansas City business leaders past, present, and future. The administrative side of the building will be home to JAKC staff offices featuring an open-concept design, as well as collaborative community meeting spaces.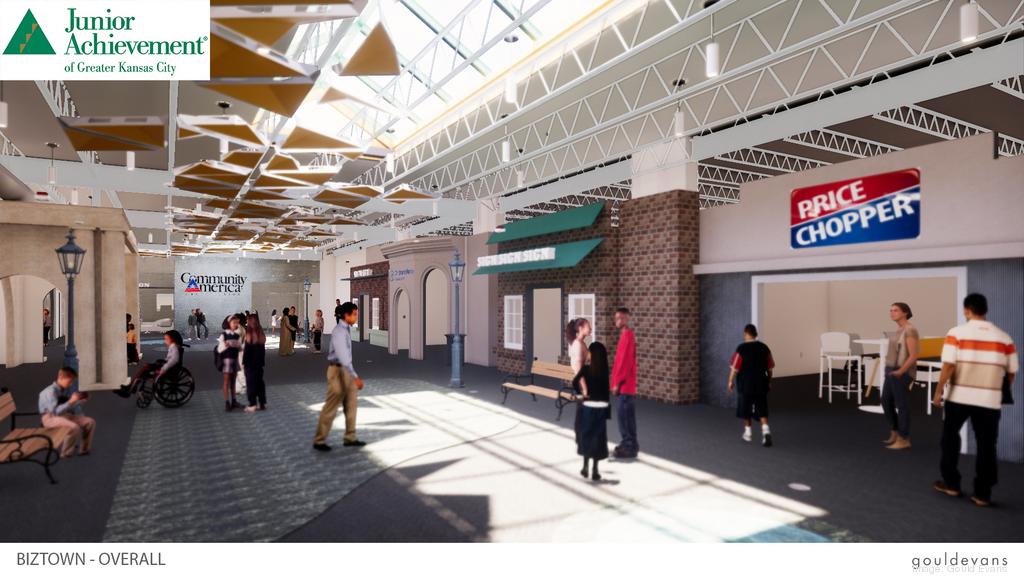 YOU can inspire tomorrows with your generosity and voice during the Youth Learning Lab Campaign. With your help, the JAKC Youth Learning Lab will begin hosting empowering mentor-driven student programs in 2021. The campaign is in full swing and your support is critical to ensuring JA kids walk through Youth Learning Lab doors in less than nine months.
There are many ways to make your mark on the campaign. Whether through individual donations, company sponsorship, or contributions of in-kind services, YOU can be part of the wave that lifts this project to success! The power of your voice and your time is also welcome as buzz about the campaign builds in the community.
Make a gift today and inspire tomorrows for Kansas City students!
Questions? Have an idea? Want to learn more?
JAKC President & CEO Megan Sturges Stanfield wants to connect with you! Reach out to her at msturges@jagkc.org or 816-561-3558 x12 to discuss how you can make your mark on the campaign and the futures of JA students!